Tom Schotte wins XOT tournament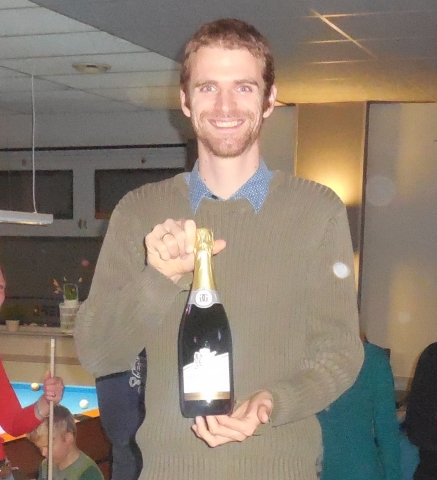 26 November 2016
For the third consecutive the Belgian Othello Association organised an after season XOT tournament in Ghent. For the third consecutive time Arena Snooker and Pool, one of our sponsors, was the host of this afternoon tournament. Twelve players gathered and started playing alternative opening positions that were created upfront by the tournament director.

Sander Schotte, son of Tom Schotte, also played a game. The six-year-old lost to Josbert van de Zande in the first round. Josbert was so kind to step in so that Sander could play a game. Both of them looked for other interesting activities (like drawing - for Sander - or playing pool - more something for Josbert). Also Akke-lien de Boer switched to pool after her second round. Though in the first round she won with a narrow 33-31 from Frédéric Nicholls.

Another notable win in the first round was the one of Frauke Van de Moortel against Luigi Puzzo. This player came all the way from Italy to participate this event. After two rounds there were only two players without a loss: Tom Schotte defeated Linda Praseptyo and Albert Kortendijk - 'the couple', while Nick Reunes defeated Akke-lien and Rosalinde de Boer - 'the sister'. What followed was a logical pairing between the two leaders where Nick Reunes surprisingly (but well deserved) outplayed the Belgian champion. Jointly with Tom Schotte, also Luigi Puzzo and Brecht Van Damme got on two points.

In round four of six Nick Reunes kept his maximum after beating up Brecht Van Damme, while Tom Schotte took the sole second place after beating Luigi Puzzo with a bit of luck. The Italian controlled a weird internal diagonal until the very end, but then forgot the switch the parity and lost.

Round five turned out to be a game turner as Nick Reunes lost to the same Luigi Puzzo and Tom Schotte proved stronger then Frauke Van de Moortel. Two players on four points, with a small advantage of 4 Brightwell points to Nick Reunes. Also Luigi Puzzo on three could still aim for victory with a solid Brightwell advantage on both of his opponents.

The last round and decision time: Luigi Puzzo won against Rosalinde de Boer and putted both leaders under pressure. Both Belgians players opponents with three wins, which was only one win less than themselves. Brecht Van Damme got distracted and was not able to put a decent game on the board against Tom Schotte: 53-11. Nick Reunes knew what he to do: a large win against Albert Kortendijk. Unfortunately he was not able to do that and only got a draw. But due to that he was still able to catch the second place, while Tom Schote won his second XOT tournament after his win in 2014.

The tournament was closed with a prize ceremony, followed by the General Meeting. At that meeting the presidency of Tom Schotte was confirmed for two more years: 2017-2018. Nick Reunes and Jeroen De Wael remain the treasurer and secretary of the Belgian Othello Association.