Tom Schotte wins 3rd Groot-Bijgaarden Othello Open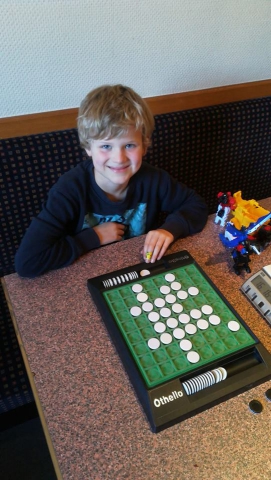 25 February 2019
For the third consecutive year the Belgian Othello Association gathered in Groot-Bijgaarden, close to Brussels. With eleven players attending, this venue set a new particpation record. The order of ratings has been respected with Tom Schotte winning this event ahead of Nick Reunes and Frédéric Nicholls. It could have gone the other way, as the battle between the top two ended in 33-31. Debutant Carlo Affatigato filled the gap between the advanced and promising players and ended fourth.

Quite some promising players at "Den Apostroff", of which Stanislaw and Przemek made their debute. Also Agata, who played earlier in 2016, rejoined our group. Both Sha Jiang and Laurent Grandjean, who also played last year, where present. Wout and Sander Schotte, at last, joined their father.

Sha Jiang won the promising section of the tournament, with three victories. Tough she lost one very interesting game against Wout Schotte, with 0-28. With her results, she will have a rating after the next update. This is also the case for Agata and Przemek. Stanislaw got nearly there, but lost 31-33 to Sander in the last round.

It was a true international event, with players attending from Belgium, Poland, China and Italy.