Tom Schotte wins 3rd Ursel Othello Open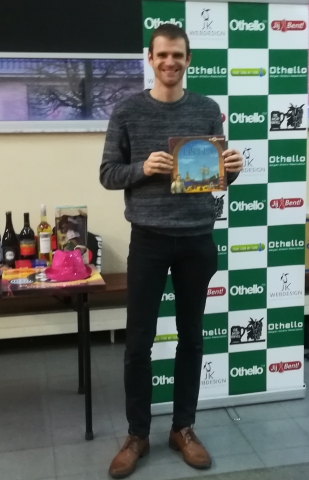 19 January 2020
For the third consecutive year, lots of players gathered in Ursel for two separate tournaments: one for advanced players and one for the not so advanced players aka promising tournament. Bart Verstuyft and family hosted this even, with a total of 15 participants.

In the morning session were the 5 advanced players joined by Bart Verstuyft. He performed very well and defeated for the first time an advanced player. Tom Schotte took the lead, ahead of Nick Reunes. During the afternoon session there was another upset: Italian Carlo Affatigato kicked the ass of the reigning Belgian champion and finished a streak of 29 consecutive victories. It did not harm Tom Schotte, as he didn't lose another point along the way. He booked his 36th victory in an official Belgian Othello tournament. Nick Reunes finished 2nd.

The promising tournament started very promising with 10 players. Bart Verstuyft joined this tournament instead of the afternoon session of the main event. He finished with 5/5 and won his first promising tournament in his carreer. Daphne Demoor finished with 4/5 and got 2nd. We have welcomed three new players: Dave, Yonas and Katia.