Tom Schotte, Nadja De Moor and Jana Verstuyft new Belgian champions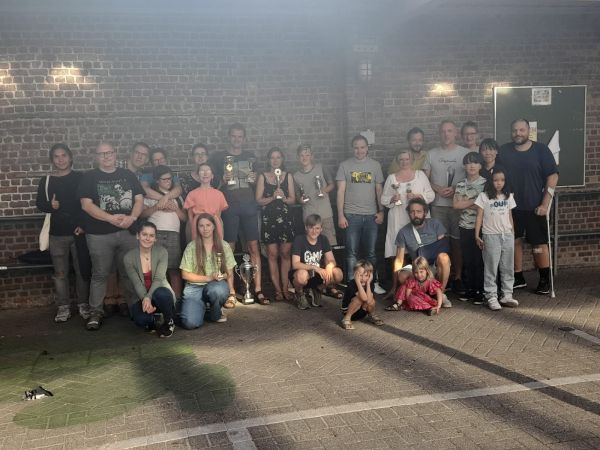 3 September 2023
For the 40th time in history players gathered to compete and crown a Belgian champion. Ghent was the place to be and 27 players registered on this sunny Sunday morning. 23 players actually were eligable for one (or more) national titles, as the family Dufour joined as well. Also Belgian residents from The Netherlands, Thailand and China were eligable for the title.

We have seen the come-back of two inactive players: Dimitri Vaes and Marcel Peperkamp of which the latter is the Belgian champion of 2009 and 2012. Min Dai, mother of Qinyi Zhang, made her debute.
With 12 advanced players, 1 beginner, 13 promising players and 1 debutant there was a nice spread of the ratings throughout the playing field.

Only one player remained undefeated after 5 rounds: Tom Schotte had some close games, of which a game won on time against Mark Dufour with a draw on the board. Nearby and still competing were Marcel Peperkamp Nick Reunes and Ralph Reijnders on four points. Also resident Dispong Kiatnarongrob and Dimitri Vaes were still in the running for the top two with 3.5/5 (after all that mattered to qualify for the final). Both Daniel and Mark Dufour, also on four points, might have been a bit more disappointed losing sight on the tournament victory.

While Tom Schotte elimated Ralph Reijnders and Dimitri Vaes for the final in rounds 6 and 7, there was a kind off semi-final and final in the other top games. First Marcel Peperkamp (against Nick Reunes) and Dispong Kiatnarongrob (against Daniel Dufour) managed to get on 5 points after six games after which Marcel defeated Dispong in round 7 and qualified for the final.


While Jana Verstuyft made a great start with two large victories in the first three games, it was Eva Terras who came closest to keep the only two advanced ladies out of the ladies final. She had a good game in round 7 to also end on 4 points, but could not defeat Haifang Ni (the only 'beginning' player in the field). Nadja De Moor and Nancy Darck qualified for the final, an exact copy of the one of 2022.

The battle for the youth finals was the most exciting: five of the six junior players had two points after six games. Three junior players won their game: Jana Verstuyft, Wout Schotte and Kirsten Janssens. The latter had an inferior tie-break so did not qualify for the final.

The three finals were exciting, but not extremely close. Three times the final was won by black:


Open category: Tom Schotte - Marcel Peperkamp: 40 -24
Ladies: Nadja De Moor - Nancy Darck: 36-28
Youth: Jana Verstuyft - Wout Schotte: 48-16
Tom Schotte wins his 14th national title (in 20 attempts), Nadja De Moor wins her first ladies title and Jana Verstuyft claims her second youth title.
Tom Schotte wins the Belgian Grand Prix for the 14th time (undefeated since 2008), ahead of Ralph Reijnders and Nick Reunes. All three of them qualify for the World Championship. Also Nancy Darck, best lady in the Grand Prix and Wout Schotte, winner of the Junior Grand Prix have qualified for the upcoming World Othello Championship.
We've seen an extremely successful Belgian Othello season with no less than 40 active players, with some come-backs but also with a high amount of new players.