Tom Schotte wins 12th Antwerpen Othello Open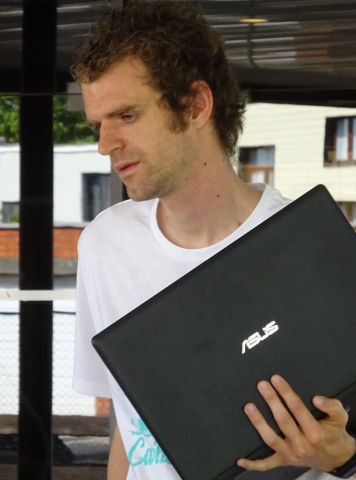 28 May 2017
Business as usual in Antwerp with two tournaments on the same day. Both events welcomed five players. The weather was excellent, so the games were played outside. A nice breeze cooled down a bit the nearly 30° temperatures.

The promising event was won bij Joke van den Brandt, who defeated her husband Frank Ivo Van Damme in the final. She knew when to focus as in the preliminaries Frank Ivo defeated her. Aside of these very active and energetic 80 years olds, three new players joined through the Othello initiations Jan Van Damme gave in a primary school earlier in May. Dimitar Krastev surprised Frank Ivo Van Damme in the first round and gave Joke van den Brandt a tough game. Dimitar himself lost also to Ivan Vechter, father of Gerben. We very satisfied to see these players join.

The main event was held over 10 rounds (of which 2 byes for every player). Tom Schotte proved to be in shape and cruised through the tournament until the 8th round where he nearly suffered a defeath against Frauke van de Moortel. In the 9th round there was a difficult and close game with Nick Reunes. At the end he remained undefeated. The battle for the second place was a close call between Nick Reunes and Fréderic Nicholls. The latter won the first game between just after lunch, bet Nick Reunes consealed the second place through a huge win in the very last round. Also Jan Van Damme and Frauke Van de Moortel finished with the same number of points, with Jan Van Damme scoring his first 'real' points of the day in round 10.