Tom Schotte wins Brussels Othello Open 2018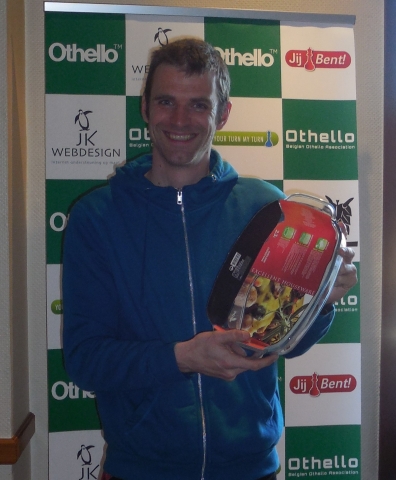 25 February 2018
For the second consecutive time the Belgian Othello Association gathered at "den Apostroff" near to Brussels. The gentle atmosphere, excellent lunch and cosy location convinced us to revisit after the first event in 2017. And a prereservation for 2019 has already been made! It seems we are looking into a brand new tradition of organising an Othello tournament in Groot-Bijgaarden.

That is was fun in 2017 was proven by the fact that all the participants of last years event joined again. On top of that 3 players were added, which made a total of 8. We saw the come-back of Laurent Grandjean, who had played for the last time in 2013. Also his girl-friend, Sha Liang from China joined and played her first tournament. Another debutant was Tuur Jena.

Tom Schotte, top rated, won the tournament after 7 straight wins. Runner-up became Rosalinde de Boer, who won 5 games. Nick Reunes lost in the last round against Frauke Van de Moortel and lost sight on the second place and dropped to 5. Both Frédéric Nicholls and Frauke Van de Moortel ended on 4.5 points, claiming places 3 and 4. In the debutants section, there was a really close game between Laurent Grandjean and Tuur Jena (33-31), that turned into the favour of Laurent. Sha Jiang, only having learned the game one month ago, played some nice combinations but could not win a single game.